Services –
Individual PCBA prototyping
As an EMS partner we support our customers with full electronics assembly services including PCBA prototyping in succesfully meeting their business targets.
Let the task be PCBA prototyping, the manufacturing of unique samples, small- or large serial manufacturing, ElektroMont Kft. offers its customers a wide range of high-quality services. These services cover the whole manufacturing process of the final product. As we are an EMS partner, depending from the requirements our cooperation in work can start already in the planning and development phase. This cooperation continues besides our manufacturing services as well. We aim to provide our partners high-quality services ensuring them their products are in our safe hands from the first steps. This kind of partnership enables them to focus on other value-adding business processes.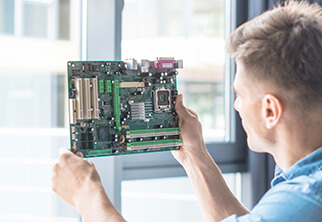 PCBA Prototyping
Upon individual needs we support our customers with our prototyping services.
While developing a new product, its perfect functioning is of vital importance. Therefore for preliminary testing of the perfect operation the prototype assembled prior to serial manufacturing is the best solution. In case our partner already has a manufacturing plan we do the prototype assembling of even one exemplar. This efficiently prevents our customer from the high expenses of repairing functional problems following serial manufacturing or even from a new prodution process.
While prototyping – similar to the serial manufacturing of electronic devices – basically lead-free material are used, but upon individual needs in special cases we do the leaded soldering of prototypes as well.
Additionally for prototyping short lead-time component purchase and quick-turn manufacturing services are available as well.
Advantages of PCBA prototyping:
PCBA prototyping enables early recognising and cost-efficient prevention of planning faults.

Easily predictable costs and timing of serial manufacturing.

Prototyping helps in determining the component- and asset need, optimal soldering- and assembling technologies used for serial manufacturing.

Suitability and durability of the final product can be predetermined.
Final manufacturing documentation can be developed within a short period following prototyping.

PCBA prototyping provides good base for the necessary product developments.

May result significant cost saving as planning faults may be detected following prototyping and well before serial manufacturing.

Products from serial manufacturing can be marketed quicker.